Mustang, Shelby, and Boss Items for Sale > Mustang, Shelby, & Boss Spare Wheel Mounting Bolt - see description for pricing

Mustang, Shelby, & Boss Spare Wheel Mounting Bolt - see description for pricing



| | |
| --- | --- |
| Availability: | In Stock |
| Prod. Code: | TR-JB1, JB2, JB3, JB4 |
Concours Correct spare wheel mounting bolt used on 1968 - 1970 Mustangs, Shelbys, and Boss 302/429s (see application chart for correct bolt). Made using original Ford engineering drawings and confirmed using original pieces. Indistinguishable from the originals. Rolled threads (not cut), flattened ends where appropriate, and formed and plated per Ford drawing specifications.
Bolt Pricing:
A - $19.95/each + shipping

B - $21.95/each + shipping

C - $19.50/each + shipping

D - $17.95/each + shipping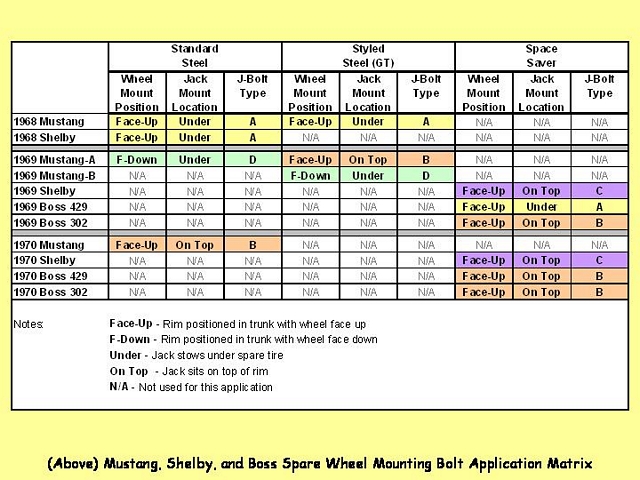 Note: In some instances there is more than one correct bolt per Mustang application. Where more than one bolt is shown for a particular application it is based on known bolts found in low-mileage/original cars and discussions with knowledgeable Mustang judges and restorers. Additionally, in some instances the matrix will not match information in Ford assembly manuals, Ford parts catalogs, and other Ford documentation. Just because Ford assigned a part number to a part, doesn't necessarily indicate that they actually produced it or used it for the intended application. So, if there is no concrete evidence that the part was ever delivered in a car from the factory, it is not shown in the application matrix. For instance, the Ford parts manual shows a different bolt for standard wheel, GT wheel, and space saver in 1968. Considerable evidence exists that suggests that the GT wheel mounting bolt (according to the parts manual) was never used during assembly and that Ford used the standard wheel mounting bolt instead. And even though the Ford parts manual shows a mounting bolt for space saver spares I am not aware of a space saver spare ever being factory-delivered in a Mustang in 1968.
---
Scott Fuller Reproductions 1763 Felspar Avenue, Ridgecrest, California 93555 (760) 371-1214 9:00 a.m. - 6:00 p.m. PST M-F
---